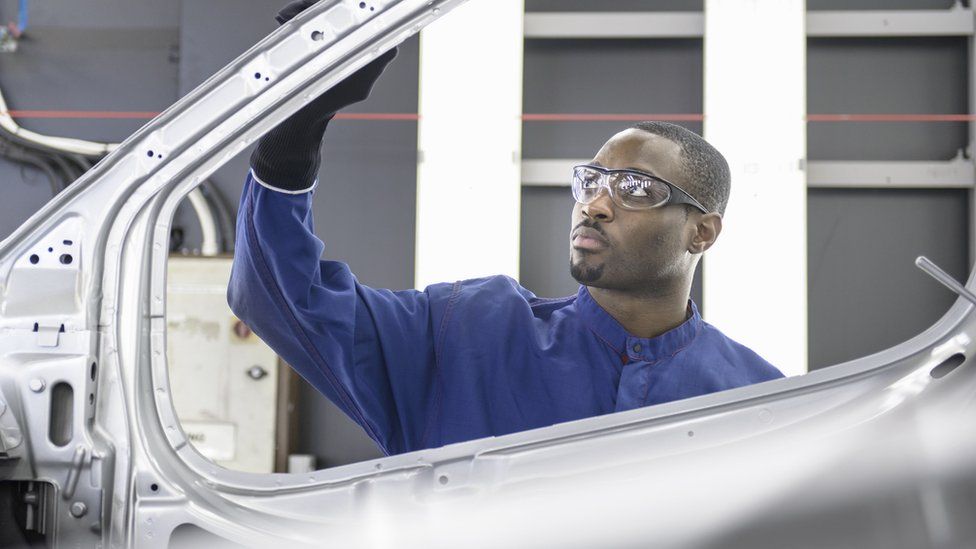 UK car production dropped by more than 40% last month to the lowest level recorded for October since 1956.
The Society of Motor Manufacturers and Traders (SMMT) said the fall was due to "a global shortage of semiconductors which led to production stoppages".
"These figures are extremely worrying," said SMMT chief executive Mike Hawes.
He added that they "show how badly the global semiconductor shortage is hitting UK car manufacturers and their suppliers".
New cars often include dozens of microchips – also called semiconductors – but a shortage has put pressure on a number of carmakers, who are competing directly with tech companies and the consumer electronics sector for supply.
The UK manufactured 64,729 cars in October, down 41.4% compared with the same month last year. The SMMT said it was the fourth consecutive month of decline.
"Britain's automotive sector is resilient but with Covid resurgent across some of our largest markets and global supply chains stretched and even breaking, the immediate challenges in keeping the industry operational are immense," said Mr Hawes.
The shift away from traditional petrol and diesel cars continued, with production of battery electric, plug-in hybrid and hybrid vehicles comprising 30.9% of all cars made in October.
The SMMT said battery electric vehicle production rose by 17.5% to 8,454 cars.
"So far this year, UK car makers have produced more than 50,000 zero emission vehicles, exceeding the total built in the whole of the pre-pandemic 2019," it said.
The UK has said it will ban the sale of new petrol and diesel cars by 2030, and hybrids by 2035.